What if you want to gain muscle?
Wilson & Wilson (2006) conducted an extensive review of the literature on protein intake and nitrogen balance. That review suggests that a protein intake beyond 25 percent of what is necessary to achieve a nitrogen balance of zero would have no effect on muscle gain. That would be 69 g/d for a person weighing 100 lbs (45 kg); 105 g/d for a person weighing 155 lbs (70 kg); and 136 g/d for someone weighing 200 lbs (91 kg). For the reasons explained above, these are also overestimations.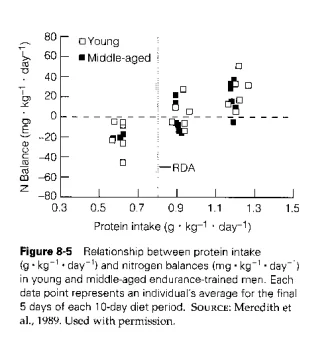 What if you go well beyond these numbers?
The excess protein will be used primarily as fuel; that is, it will be oxidized. In fact, a large proportion of all the protein consumed on a daily basis is used as fuel, and does not become muscle. This happens
even if you are a gifted bodybuilder that can add 1 lb of protein to muscle tissue per month
. So excess protein can make you gain body fat, but not by protein becoming body fat.
How much protein does one need to be in nitrogen balance?