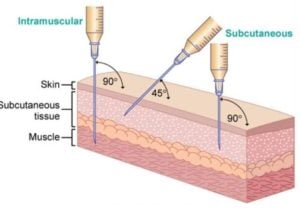 Over 10-15 years ago there were several progressive doctors in the cash HRT/TRT (hormone replacement therapy/testosterone replacement therapy) space who at some point realized subcutaneous administration of testosterone cypionate or enanthate not only absorbed as effectively as IM (intramuscular injections). They also found that more frequent subcutaneous (SC) injections yielded more stable levels than once per week IM injection. Some of these doctors started writing about it including TRT expert Dr. Eugene Shippen who wrote the book "The Testosterone Syndrome." These doctors may have also found old studies (or did small observational studies themselves) showing that oil-based hormone injections can be administered SC with efficacy.
Over the years as TRT became more prevalent, experts and physicians have attempted to develop novel ways to administer testosterone. This lead to more formal studies being done on the effects of subcutaneous testosterone injections.
In addition to formal studies, many progressive doctors also experimented and observed that SC delivery is equal if not superior (in pharmacokinetics) over single larger dosed IM injections.
Subcutaneous testosterone injections may also present lower Cmax levels of testosterone (peaks), which could translate into fewer problems with increased blood viscosity, blood pressure and cardiovascular risks related to increased red blood cell volume (hematocrit).
Subcutaneous testosterone injections have been found effective by the FDA. They approved Xyosted for that purpose.
Selection of studies to review:
A 52-Week Study of Dose-Adjusted Subcutaneous Testosterone Enanthate in Oil Self-Administered via Disposable Auto-injector. – PubMed – NCBI
Serum Testosterone Concentrations Remain Stable Between Injections in Patients Receiving Subcutaneous Testosterone. – PubMed – NCBI
Subcutaneous Testosterone: An Effective Delivery Mechanism for Masculinizing Young Transgender Men. – PubMed – NCBI
Pharmacokinetics, safety, and patient acceptability of subcutaneous versus intramuscular testosterone injection for gender-affirming therapy: A pilot… – PubMed – NCBI
Daily subcutaneous testosterone for management of testosterone deficiency. – PubMed – NCBI
Subcutaneous administration of testosterone. A pilot study report. Al-Futaisi AM, Al-Zakwani IS, Almahrezi AM, Morris D. Source Department of Medicine, College of Medicine & Health Sciences, Sultan Qaboos University, Muscat, Oman.
Abstract
OBJECTIVE: To investigate the effect of low doses of subcutaneous testosterone in hypogonadal men since the intramuscular route, which is the most widely used form of testosterone replacement therapy, is inconvenient to many patients.
METHODS: All men with primary and secondary hypogonadism attending the reproductive endocrine clinic at Royal Victoria Hospital, Montreal, Quebec, Canada, were invited to participate in the study. Subjects were enrolled from January 2002 till December 2002. Patients were asked to self-administer low weekly doses of testosterone enanthate using 0.5 ml insulin syringe.
RESULTS: A total of 22 patients were enrolled in the study. The mean trough was 14.48 +/- 3.14 nmol/L and peak total testosterone were 21.65 +/- 7.32 nmol/L. For the free testosterone, the average trough was 59.94 +/- 20.60 pmol/L and the peak was 85.17 +/- 32.88 pmol/L. All of the patients delivered testosterone with ease, and no local reactions were reported.
CONCLUSION: Therapy with weekly subcutaneous testosterone produced serum levels that were within the normal range in 100% of patients for both peak and trough levels. This is the first report, which demonstrated the efficacy of delivering weekly testosterone using this cheap, safe, and less painful subcutaneous route.
What is the largest dose of Sub-Q testosterone someone can inject before running into issues ie-nodules, injection site pain, etc.?​
The rule of thumb unofficially followed by most doctors is never inject more than a 1mL total of a water-based injectable subcutaneously.​
When it comes to oil-based injectables usually not more than 0.5mL is a low risk of site injections. Going over 0.5ml of an oil-based often leads to discomfort and swelling at the site of injection. 0.5mL or fewer yields no site issues especially when using grapeseed oil.
More information about subcutaneous testosterone injections
Get Your Testosterone Blood Test Here No Doctor Visit