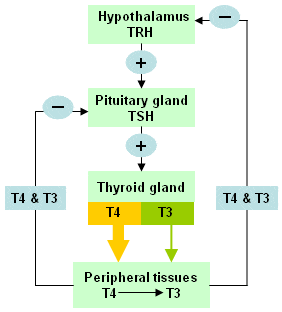 The thyroid is a butterfly-shaped endocrine gland located in the lower front of the neck. It produces thyroxine or T4, which is converted to triiodothyronine, or T3. T4 production is controlled by thyroid stimulating hormone or TSH, a hormone produced by the pituitary. Hypothyroidism, or low thyroid hormone production, can cause sexual dysfunction as well as depression, fatigue, dry skin and hair, weight gain and increased sensitivity to the cold. Blood tests to measure TSH, free T4, and free T3 are readily available and widely used.
Many doctors only test thyroid stimulating hormone (TSH) to determine thyroid function. Some conclude that a TSH under 4 is normal.  This practice has been disputed by several studies that have concluded that the use of only TSH for thyroid function determination and a high upper limit of that value may be missing thyroid dysfunction diagnosis.
The association between subclinical hypothyroidism and erectile dysfunction.
Abstract
Objectives: Erectile dysfunction (ED) is highly prevalent among males, and hypothyroidism is previously reported to be related with ED. However, there have been rare studies to investigate the association between subclinical hypothyroidism (SCH) and ED, hence our objective was to fill this gap.
Methods: ED patients who visited the Urology Outpatients Clinic were recruited consecutively, and males from the Health Manage Center were included as the controls. Serum thyroid and sexual hormones were estimated, and the International Index of Erectile Function (IIEF-5) questionnaires were evaluated as well. Subjects with normal sexual hormones were included for statistical analysis.
Results: One hundred nine ED patients and 32 healthy controls were included in this study. The ratio of SCH and euthyroidism in ED males was 29.36% and 66.06% respectively. The IIEF-5 scores in ED patients with SCH were significantly lower than the controls with euthyroidism (P<0.05). The serum concentrations of TSH and prolactin were significantly higher and free thyroxine lower in ED patients with SCH when compared with the controls with euthyroidism (all p<0.05), and no significant differences of estradiol and total testosterone were found between those two groups. However, the IIEF-5 scores were not significantly different between males with SCH and euthyroidism among ED patients (P>0.05).
Conclusions: SCH is common in ED patients and may be associated with ED, whereas the severity of ED is not related to SCH. Screening for thyroid dysfunction in men presenting with ED is recommended.