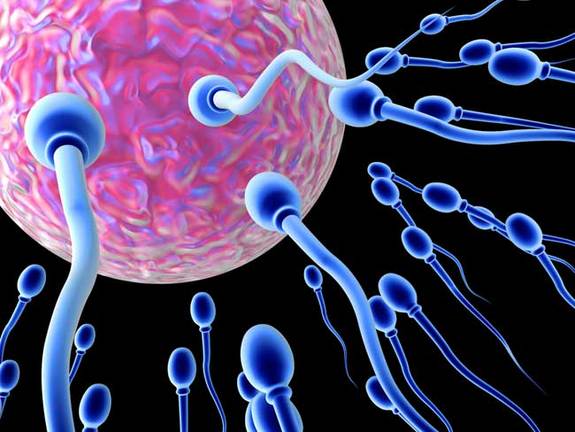 Testosterone replacement therapy (TRT)  or anabolic steroid (AAS) use impairs sperm production (spermatogenesis) by promoting negative feedback on both the hypothalamus and pituitary gland. This reduces the pulsatile secretion of gonadotropin-releasing hormone GnRH and luteinizing hormone  LH respectively. The loss of LH secretion shuts down the production of testosterone by testicular Leydig cells which in turn significantly reduces intratesticular (inside the testicles) testosterone levels. This altering of the hypothalamus-pituitary-gonadal (HPG) axis and drop of intratesticular testosterone can lead to a lack of sperm within ten weeks of starting TRT. Even more alarming is the fact that up to 10% of men can remain azoospermic after the cessation of TRT.
Human Chorionic Gonadotropin (hCG) therapy can help preserve spermatogenesis in men undergoing TRT by maintaining intratesticular testosterone levels. Some studies have been shown that stimulating follicle hormone (FSH) alone cannot initiate or maintain spermatogenesis in hypogonadal men leading to the discovery of the importance of intratesticular testosterone in spermatogenesis. In healthy eugonadal (normal testosterone) men selected to undergo TRT, it was shown that their intratesticular testosterone levels dropped by 94%. However, in those who received hCG 250 IU SC every other day along with TRT, their intratesticular testosterone levels only dropped 7%. Additionally, in men who received TRT and 500 IU of hCG every other day an increase in intratesticular testosterone by 26% from baseline was observed. This proved that co-administering low dose hCG could maintain intratesticular testosterone in those undergoing TRT. It was later shown that not only is intratesticular testosterone increased with co-administration hCG but spermatogenesis is preserved as well at one year follow up. These studies proved that by concomitant hCG administration with TRT spermatogenesis, and thus potentially fertility could be preserved.
All men wishing to preserve fertility while on TRT should have a baseline semen analysis (SA). Next, it is important to determine the appropriate dosing regimen of hCG based on the timeline for the desired pregnancy. For men who wish to obtain pregnancy within six months, it has been suggested to discontinue TRT and start 3,000 IU of hCG intramuscular, or subcutaneous every other day. SA should then be performed every two months. Clomiphene citrate 12.5-25 mg daily can be added or omitted to promote FSH production. Dr. Ramasamy and his team in Miami suggest including of clomiphene citrate in all men who already have low sperm count on TRT alone.  Clomiphene can be omitted in men who are initiating TRT and hCG simultaneously and have normal semen parameters.
GET A SEMEN ANALYSIS TEST HERE
If semen parameters fail to improve and FSH remains low, compounded FSH 75 IU (Empower Pharmacy) every other day can be added. In men who desire pregnancy within 6–12 months TRT can be continued with co-administration of 500 IU of HCG every other day ± clomiphene citrate can be used. For men who do not desire to preserve fertility testicular size can be maintained while undergoing TRT with 1,000 to 1,500 IU of HCG given weekly which is enough to maintain pre-TRT levels of intratesticular testosterone in two-thirds of men.
For more details, click here:
The Use of HCG to Prevent / Reverse Testicular Shrinkage and Preserve Fertility
References:
Transl Androl Urol. 2018 Jul; 7(Suppl 3): S348–S352.
J Urol. 2013 Feb; 189(2):647-50.