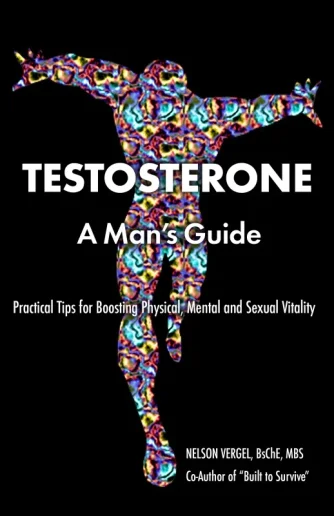 Available here

As a physician who treats testosterone deficient male patients I have found Nelson's book so informatively and clearly written that I have recommended his book to medical colleagues.
--Paul Bellman, MD, NY, NY
I found this book to be very through, concise and educational. I had no reservations about giving it a firm - it is extremely informative on the subject and can be read by the general audience.
--William Phenn for Reader Views
Nelson deeply cares about men's health. It is more than a passing interest. For him, it is a matter of life and living. I am humbled to be a part of the book. Do yourself a favor and be good to yourself. Get the book!
--
Michael Scally
MD, Houston, TX
[Nelson] also makes it easy for the reader to find a doctor in their area that prescribes testosterone by providing easily searchable directories. For those with no insurance, he shows you how to apply for patient assistance programs and research studies, and to obtain economical gels from compounding pharmacies (an important source that most men and doctors fail to access).
--Carlos Barrero MD, Guadalajara, Mexico
Mr Vergel creates a PERFECT concise guide for patients, clinicians and anyone else who is looking for the best information on the use of testosterone therapy… This is critical information for a problem that is grossly under-diagnosed and often ignored… This book comes close to giving the reader a PERFECT overview on practical use and application of these therapies. I know that MY patients have already improved their lives through the use of this book and his vast knowledge. Congratulations Mr. Vergel! Thanks for your contributions to all men!
-- Rey A. Candelaria,Director, South Suburban Clinics of Cook County, IN
This book is a thoughtful and thoroughly researched guide for any mature man over the age of 35 who's interested in taking control of his health and well being.
Eric North, President, Physician's Rejuvenation Center, District of Columbia
This book is perfect for any man who is using or is considering using testosterone. It takes what could be a confusing subject and makes it easy to understand. This guide really walks you through the process of testosterone replacement therapy. It helps you figure out if low testosterone is a problem for you and helps you learn how to communicate this with your physician. "Testosterone" is an easy read but never skips over important information that you need to know.
Tim Baker, MD, Houston TX
I highly recommend this book for anyone who is currently using or contemplating using testosterone. It will give you the tools to have intelligent conversations and questions to your doctor. And doctors tend to prescribe hormones a lot easier to patients who have done their homework.
--Scott S., Houston TX
Nelson Vergel
has packed an enormous amount of helpful information into this book. Careful research is combined with clearly identified personal notes that make the content more accessible. Benefits and risks are carefully identified. Anyone dealing with low energy levels or hypogonadism should read this book before embarking on testosterone replacement therapy.
Robert J. Monk, PhD, Arroyo Seco, NM
I have spent 9 years opening and operating various medical practices which focus on Interventional Endocrinology, Wasting, and Testosterone therapies for men…I have also recommended it to many physicians, including my own…Every patient at The Santa Monica Clinic leaves their initial visit with a copy in hand.
--JD Bruce, Tampa, FL
As a Personal Trainer that heads up a local hospital's Cardiac Rehabilitation Center I'm finding
Nelson Vergel
's new book to be very valuable. Most of my Client/Patients are mature men that are recovering from procedures such as Heart Bypass, Stints, etc. I refer them to their physicians and suggest they pick up a copy of Nelson's new book. I refer them to their physicians and suggest they pick up a copy of Nelson's new book.
D.P. Gomes, CPT, Houston, TX
I was like thousands of other men who thought that hormone replacement therapy was only for women. I read Mr. Vergel's first book, "Built to Survive" (which I got on Amazon.com, thank you), and it changed my life. This book builds on that information and adds new topics as well. I am 45, and a month ago I bought a skateboard! Why? Because I feel (and look) like I'm in my 30s... thanks to
Nelson Vergel
's books. They're great!!
--Miami Drew, Amazon Reviewer
I'm actually a physician myself, but I can tell you first-hand that this is not something we learn much about in medical school or residency. He knows much more about testosterone than most of us doctors
--Daedalus, Amazon Reviewer
This book can do for men, what Susan Somers did for women with her book. This is the book that was needed to bring testosterone replacement therapy to mainstream medicine. The information in this book is easy to read and understand for the average man.
Jaime, Amazon Reviewer
If you are a man - or a woman who loves a man - GET THIS BOOK! It could change your life - and SAVE your life.
David Sanchez. Bedford, TX
If you are looking for a place to start in order to initiate the discussion of optimizing your testosterone levels with your doctor, this book is exactly what you are looking for.
Krisw "Kris", Baltimore, MD
As a practicing clinician I am more and more convinced that men, as they age and lose testosterone production ability, can benefit from testosterone replacement therapy. And there are no clinical guidelines, the practice is discouraged by the American Endocrinology society. So there is little in the way of reliable literature. Mr. Verge supplies the information I need in my day to day practice. He has researched the literature, summarized it in a very practical manner and has made it all accessible to me, a clinician, and to my patients. A much needed book.
Rob J., MD
Excellent book very is to read and very informative. Book is full of useful information from how to use testosterone… A lot of doctors are still not 100% sure with [testosterone replacement therapy] so it is good to be able to look at a book written by someone with a ton of knowledge.
Adam, Amazon Reviewer
This is a definite MUST READ for any man. With more and more men discovering they have symptoms of low testosterone I think every male over the age of 18 should read this book and know what to look for in the future.
M Napoli, St. Clair Shores, MI
Great book. Informative, factual and no fluffy filler. A lot of what is written is based on first hand practical experience. If you want to learn and become knowledgeable about testosterone replacement therapy get this book.
OMI, Amazon Reviewer
This book has a lot of useful basic knowledge about testosterone and the related hormones in the body. He provides a wonderful guide on how to inject at home; I know my doctor was not as thorough, and I'd probably have done much worse if I weren't well-versed in syringes/needles/injection protocol through work. The information about compounding pharmacies is good, because they are still steeped in mystery for most doctors and other health professionals. I appreciated his breakdown/debunking of side effects. I also like the brief asides where he mentions his personal experience with various therapies.
--Jeremy Gabbard, Little Rock
Last edited: