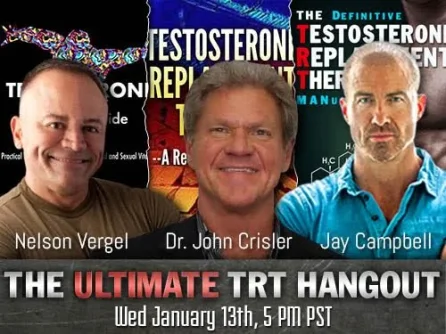 It is with great excitement we announce The Ultimate TRT Hangout with
Nelson Vergel
, Dr John Crisler and Jay Campbell.
Join the authors of the 3 of the best selling TRT books for a unique discussion on optimizing men's hormonal health.
Some of the topics for discussion:
-clomid therapy
-estradiol management
-finasteride syndrome
-HCG benefits beyond testicles
-peptides
-typical protocols he uses
-thyroid management
We will finish with Q & A. We encourage you to submit your questions ASAP.
Public Event Page Link (where people can sign up to watch)
https://plus.google.com/events/c9s7nkllj38lguauj3sgsr1bv7g
Youtube Link: (for watching later)
https://www.youtube.com/watch?v=P8wPlroSy4c&feature=youtu.be
Last edited: