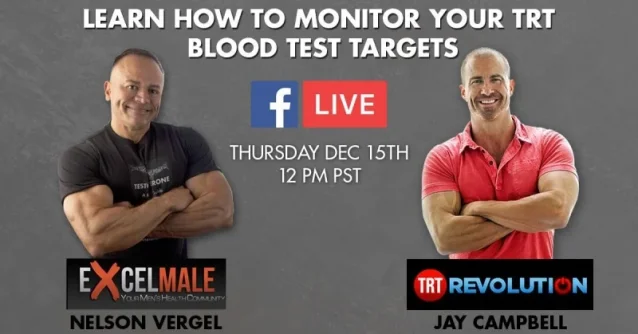 [TD="class: _51m-"][/TD]
[TD="class: _51m- _4930 _51mw"]

[/TD]
Join Nelson Vergel of
ExcelMale.com
and Jay Campbell of
TRTRevolution.com
as we discuss the importance of monitoring and managing testosterone replacement therapy blood test targets.
This will be a FREE Facebook Live Event.
We'll be covering the following biomarkers and their optimal targets:
Total T, Free T
Hematocrit
PSA
E2(Estradiol)
Blood Pressure
Kidney Function (eGFR)

Liver Enzymes
Thyroid Stimulating Hormone (TSH)
Free T3
Ferritin and Iron
HDL
Prolactin

This is essential information for men interested in fully optimizing their biomarkers while on TRT.

Facebook live and webinar (will also be posted on youtube.com afterwards)

https://www.facebook.com/events/387392544934469/

Please share this with any man who is using Testosterone or might be considering doing so.