Currently, only topical minoxidil (MNX) and oral finasteride (FNS) are approved by the Food and Drug Administration (FDA) and the European Medicines Agency (EMA) for the treatment of androgenetic alopecia.
Although FNS is efficacious for hair regrowth, its systemic use is associated with side effects limiting long-term utilization. Exploring topical FNS as an alternative treatment regimen may prove promising.
In its systemic form, various side effects such as gynecomastia, breast tenderness, malignant neoplasms of the male breast, decreased ejaculate volume, a decrease in testicular size, testicular pain, reduction in penile curvature, reduction in penile size, sexual disorder, male infertility, high-grade prostate cancer, and prostatitis have been reported. These side effects are often prohibitive as male patients are sensitive to sexual side effects. Animal studies have shown that topical FNS may have protective effects against AGA.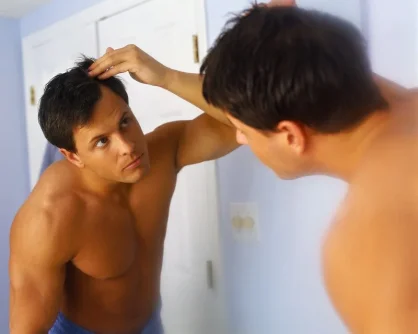 METHODS:
A search was conducted to identify studies regarding human in vivo topical FNS treatment efficacy including clinically relevant case reports, randomized controlled trials (RCTs), and prospective studies.
RESULTS:
Seven articles were included in this systematic review. In all studies, there was a significant decrease in the rate of hair loss, increase in total and terminal hair counts, and positive hair growth assessment with topical FNS. Both scalp and plasma DHT significantly decreased with application of topical FNS; no changes in serum testosterone were noted.
CONCLUSION:
Preliminary results on the use of topical FNS are limited. Continued research into drug-delivery, ideal topical concentration and application frequency, side effects, and use for other alopecias will help to elucidate the full extent of topical FNS' use.
"A Systematic Review of Topical Finasteride in the Treatment of Androgenetic Alopecia in Men and Women," Journal of Drugs in Dermatology," April 2018,
http://jddonline.com/articles/dermatology/S1545961618P0457X/1
Last edited by a moderator: