Penile-Artery Angioplasty Gets Second Look for Erectile Dysfunction
Some men, especially those with diagnosed or undiagnosed coronary artery disease, have blockage in the prudental or penile artery that can cause erectile dysfunction that does not respond to Viagra, Levitra, Cialis or Stendra. Researchers are exploring improving blood flow to the penis in those men with the use of stents or balloons.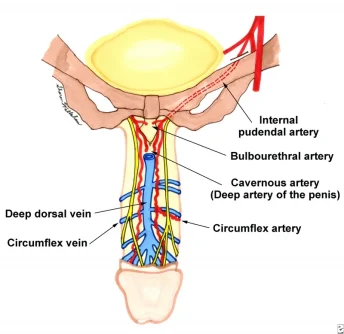 In men with erectile dysfunction not treatable with oral erection improving drugs, Dr Wang from the National Taiwan University Hospital reported results for 80 patients with erectile dysfunction in whom multidetector CT angiography identified 157 obstructive segmental lesions. The bulk of these (45%) were in the penile-artery segments, followed by the internal pudendal-artery segments. Importantly, almost one-third of the patients' lesions were limited to the penile arteries alone, with no other artery involvement. By contrast, only 13% of men had disease confined solely to the internal pudendal arteries.
Technical success with balloon angioplasty in the remaining 12 was 100% in the 14 vessels treated. Percent lesion stenosis improved from a mean of 80% preprocedure to 12% immediately postintervention. At one month and three months, clinical success (defined as change in International Index of Erectile Function [IIEF-5] score of four or more points) was seen in a total of 83% and 58% of patients, respectively. No patients experienced worsening ED over the study follow-up, and no adverse events occurred.
"As far as I know, this is the first report of using balloon angioplasty for the penile artery, and that's probably because of the advances we've seen with the instruments we use," Wang commented. "They are getting smaller and smaller. We now have a 1.0-mm balloon we can use, and that's quite convenient [in this setting]."
"Durability of [percutaneous transluminal angioplasty] PTA in these vessels will be a concern; ... the angiographic restenosis (re-obstruction) rate at six months was 34.4%," Dr David Kandzari (Piedmont Heart Institute, Atlanta, GA) noted. "Erectile dysfunction is a complicated disease state that is between the ears, between the couple, and between the legs. Much more investigation with control groups is needed to adequately further evaluate the effects of this therapy."
Penile-Artery Angioplasty Gets Second Look for ED