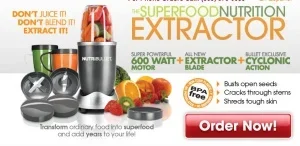 I have been using my Nutri Bullet for two weeks and I can tell already that I am consuming more protein shakes and vegetables since it is so easy to use with minimal clean up. Being able to grab the mix container and use it as a mug saves a few steps. It is really powerful and can crush all vegetables I consume for improved nitric oxide (beets, celery, spinach, apples, plus muscle egg or yogurt)
Highlights:
Effortlessly pulverizes fruits, vegetables, superfoods and protein shakes into a delicious, smooth texture
High-torque power base and 600-watt motor
Power, patented blade design and cyclonic action combine to extract all nutrients from food helping to achieve the healthiest lifestyle possible
Includes a power base, 1 tall cup, 2 short cups, 1 flat blade and 1 emulsifying blade, 2 re-sealable lids, pocket nutritionist and manual with recipes
More power, more capacity
Click here
If you have a Bed, Baths and Beyond around your area, you can save money by using their 20 percent off coupon they send to your home.