Testosterone Replacement Therapy with Prime Body
AN INTERVIEW WITH NICK GLIMCHER, President of Prime Body
PeakTestosterone is proud to include Prime Body as its latest site sponsor. The founder and President of Prime Body is entrepreneur, amateur powerlifter and enthusiastic father Nick Glimcher. Nick is a great guy to talk to and below is a must-read interview I did with him that will interest any U.S.-based man currently being treated or seeking treatment for low testosterone.
Q. What inspired you to get involved with TRT and the men's health community?
A.
My interest in men's health really emanated from my years as a powerlifter and somewhat of an obsession with fitness in my twenties. As I got older, I started showing symptoms of low testosterone. It wasn't until I met Dr. John Chang (the founder of PrimeBody.com) that I became familiar with hormone therapy and it benefits. I became more acutely aware of my own situation and the symptoms I was feeling and experiencing could be addressed, mitigated and in most cases completely eliminated. Shortly, after I began treatment I saw massive improvement in my energy, my ability to relate to people, my motivation to go to the gym and maintain muscle, as well as my interest physical performance in my personal life.
The most meaningful outcome for me has been quality time with my kids. I had fallen into a rut and I found myself being physically present with my kids, but not engaged and I simply didn't have the energy after work to be more than simply a spectator. That has changed and has really fueled a passion for me to open doors for other men and women that are suffering and really do not know it and if they do know it they don't know where to go or the right questions to ask.
I just do not want anyone to have to struggle through what can be a frustrating process to find a trustworthy physician that will listen to them and treat them effectively. That is why I ensure that PrimeBody really cares about its patients so it is not unusual for me to call a patient personally and help to get them set up to meet with one of our doctors in a face to face environment or to simply listen. All of our customer service representatives feel the same way and know how personal this is for our clients and our provider's patients.
Q. Can you tell the men a little bit about Prime Body and the general services it offers men? For example, you offer the so called trifecta that many men like and enjoy, correct? Why did you choose that protocol?
A.
Prime Body is a nationwide network of providers around the United States specialized in hormone replacement therapy and weight loss for men and women. So whether you're the mom of four or a travelling businessman, we're here to support your quality of life. We make our protocols easy and convenient for you by shipping our medications to your home or your office and teaching you self-administration. Depending on what our provider thinks is appropriate, we offer men the "trifecta" Testosterone, HCG, and anastrozole. The protocols were developed based on the experiences and ongoing education of our medical director team combined they have over 1,000 hours of continuing education. Our protocols and process will continue to evolve as science in this field evolves.
After someone visits PrimeBody.com and fills out the contact form, several steps follow:
A customer service manager will be contacting you by email and phone to answer all your questions about our program.
If you like what you hear, he/she will offer you very economical blood tests to assess your hormone balance. The cost for men and women for this hormone panel is under $80. We will need basic information from you to order those diagnostics tests.
The blood test requisition form and new patient intake forms will be to you sent via email. Intake forms must be completed before you can schedule a doctor appointment.
Blood test results typically take 3-5 business days (lab locations in most US cities) and once results are received you are assigned to a doctor. If we do not have a doctor in your local area we will offer a travel reimbursement payable in month 3 for up to 300 dollars if you fly and up to 150 dollars if you drive long distance.
After your consultation with the doctor, he/she will determine what program will best meet your needs. You may only need to see the doctor twice or three times until your program is optimized. After that, blood test monitoring in your location every few months is all that is needed. You will get the required medications mailed to your home/office monthly at a low monthly fee.
You can cancel anytime by calling or emailing us. No hidden fine print!
Q. I understand that you are in a large number of metropolitan areas and growing fast. Where can men find out current Prime Body locations? And how do you handle men that live away from these locations or in more rural areas?
A.
Our current locations are listed below, and as I explained above in the description of the process flow. We offer travel reimbursements of up to $150 if the patient drives and $300 if they patient flies to see once of our providers. The reimbursement is made on the third month after start of the program.
Q. I know that you are cash only and don't except insurance, which has huge advantages in my mind as you know. But how do you keep your costs down for your patients? And do you have a cost sheet that man can refer to?
A.
We choose not to deal with insurance when creating the Prime Body program, primarily because we wanted our providers dictating treatment, not insurance companies. We keep costs down by only working with the largest and most reputable pharmacies in the US. Typically male patients can expect to pay 250 dollars per month which includes all required doctors' visits, lab tests, medications, supplies, shipping and customer service. All
Excel Male
subscribers receive a permanent 10% discount on our regular price so costs would typically be 225 dollars per month. We have no refill charge or hidden costs. [Remember to give us the code EMVIP for the 10% discount.)
Q. Can you explain how the consultations with your doctors work? How long do the men get with their doctors generally and how many appointments are usually needed in a year?
A.
All patients are required to meet with our providers prior to starting treatment, which I think is a distinct advantage, just like with anything in life you cannot accomplish over the phone what you can accomplish in person and it also allows the patient to develop a relationship with the provider. This allows them to feel comfortable opening up about their symptoms, which can be very personal related to sexual function, which creates a better treatment environment and a higher likelihood of full symptom resolution. Consults vary per provider, but in general it takes an hour for the provider to take vitals and review program details and answer questions about hormone therapy. Patients are required to see providers no less than once per year.
Q. What about testing? How does Prime Body manage labs especially for men that may live some distance from their doctor?
A.
Prime Body has a national relationship with LabCorp. All Lab work requisition forms are sent to the patient via email in a prepaid and PDF printable format. The patient simply needs to print the document, present to the front desk at a nearby LabCorp location and all results will be sent to Prime Body. Lab work is typically required 3-4 times per year depending on how fast protocol optimization happens.
Q. What advantages do you think that Prime Body has over other TRT providers out there? What are your strong points?
A.
One of the most attractive aspects of what we require is a face-to-face consults. Patients sometimes wrongly discount how important it is to develop a relationship with their provider. Also, each patient is assigned to their own customer service representative that is familiar with them and their case so they don't have to start over every time they call.
We also offer extremely competitive pricing, a very reliable and powerful protocol and an excellent team of physicians and support staff.
Q. I know many men have expressed interest in HRT for their wives and girlfriends. What services do you offer for women?
A.
We offer BHRT or Bioidentical Hormone Replacement Therapy for Women. Our protocols were created by our Medical Director Allison Woodworth, FNP-C, who has had many years of experience in treating women and men. I suggest that people check her videos on PrimeBody.com. Every protocol is individualized for each patient. We typically start by focusing on what we call the Big Four: Testosterone, Progesterone, Estrogen, and Thyroid and pricing depends on what a woman actually needs based on her symptoms. Often times the hormone optimization journey is best to take in conjunction with your significant other and we offer 10% off as a couple's discount.
Q. Where can men find out more? And how can they get started?
A.
To find out more check out our website
Prime Body
, email us at
[email protected]
or call us at
844-845-2478 and remember to give the code PEAKTVIP or EMVIP for a the 10% discount
.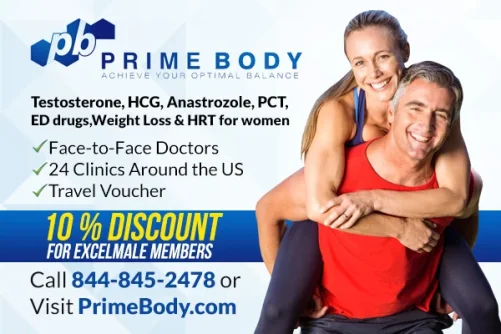 Last edited: