This is part 2 of two parts
To read part 1:
Click Here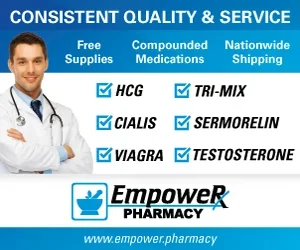 Nelson Vergel
: What kinds of doctors use your pharmacy in general for their male and female patients?
Shaun Noorian: For women, we see a lot of OB-GYNs send us prescriptions as that's their primary physician when it comes to female related issues. We also fill prescriptions for a lot of general practitioners that have learned how to treat their menopausal patients with hormone replacement therapy.
For men, we'll usually see general practitioners, mid-levels, urologists and physicians that specialize in treating men's health related issues. We're starting to see that many primary physicians have learned about the benefits of testosterone replacement therapy and the different ways of treating men's health issues through the use of compounded products. This is one of the fastest growing areas of medicine as men are starting to become more aware of their health and taking charge of their wellness and vitality.
Nelson Vergel
: A common complaint I hear from some of the guys on ExcelMale.com or on Facebook is the fact that when they start using testosterone or HCG, their sex drive goes up, but then they have to deal with the fact that their wives or girlfriends don't share the same libido. Is there anything that men can do to improve their women's sex drive?
Shaun Noorian: You make a great observation. We see a lot of female patients because their husbands have sent them to see a doctor for Hormone Replacement Therapy after they've experienced the benefits Testosterone Replacement in their own lives. Of course this happens vice versa as well.
When it comes to female libido enhancement the two most commonly prescribed compounds through our pharmacy are Testosterone Cream that's applied topically and Scream Cream, which is applied clitorally. Scream Cream is a topical, hypoallergenic base mixed with six different prescription only vasodilators and blood flow enhancers that is applied clitorally and causes an increase in blood flow to the clitoris. Many female patients not only find it easier to reach orgasm with this compound, they also report an increase in the number of orgasms per sexual experience. As you can imagine it's been a very popular product alongside hormone replacement therapy, which consists of a combination of estrogen, progesterone and testosterone. Since every woman's body is different we customize different combinations of these hormones in a dosage form best suitable for the patient.
For that, we recommend seeing a specialist that deals with Female Hormone Replacement Therapy since it's a complex subject and requires an experienced doctor to tackle.
Nelson Vergel
: We've had some media exposure about the recent outbreak of meningitis that killed over 60 people and injured hundreds more. Can you tell us what the case meant for the industry and what you see are the greatest challenges facing the future of the compounding?
Shaun Noorian: As you know a meningitis outbreak occurred across the country due to a tainted batch of steroid injectables that were meant to be injected in the endometrial cavity. Meningitis is often a result of microorganisms growing in the fluid around the brain and spine. This outbreak was due to a tainted compound made by the compounding pharmacy known as NECC or New England Compounding Center located in Massachusetts.
A number of things went wrong to cause this compound to become contaminated and distributed across the country. Because the product was a suspension with visible particles rather than a solution, the liquid couldn't be filtered in a way that could have removed bacteria and fungi. Also, because the product was being injected in the spine, no preservatives could be used that might have prevented fungal growth within the vial. This medication was being used in many sick and immunocompromised patients to treat their chronic pain. To make matters worse the drug itself was a type of steroid that decreases the body's response to microorganisms and this might have prevented some patients for fighting off the fungal infection on their own.
Finally, NECC was distributing the product in many states in extremely large quantities something that compounding pharmacies are not permitted to do under state laws.
So, after many people died and many others were left sick, the FDA came in and shut down NECC. After that they performed an investigation on the facilities and they found out that the vials were tainted with black particulate matter and also noted many things wrong with their facilities including rust inside the cleanroom, dirty work areas, a leaky broiler and a defective ventilation system, which is what is believed to have caused the fungi to enter their clean room in the first place.
The report also found that they were distributing extremely large quantities of these high risk compounds to hospitals and offices instead of individual patients and of course, United States laws requires compounding pharmacies to dispense compounds to individual patients only.
It was obvious that NECC was acting as a manufacturer under the guise of a compounding pharmacy. To prevent a tragedy like this from happening again the FDA recommended to Congress new rules for the compounding industry. Several months later the Drug Quality and Security Act was passed, which requires compounding pharmacies that are engaging in large operations and distributing non-patient specific prescriptions, like what NECC was doing, to become registered with the FDA and report on a quarterly basis the types and quantity of drugs that are making as well as adhering to the same cGMP standards that pharmaceutical companies have to meet. Due to the passage of this law I see the compounding industry going towards quality and the ones that can't meet these standards are going to get shut down or run out of business.
I see this as a good thing. It's eventually going to increase quality for the entire industry and patient care as well.
Nelson Vergel
: Well, Shaun, thanks a lot for your time and I know you are available to answer questions on
ExcelMale
.com. We appreciate you taking the time to help everybody out and educate patients and physicians on the advantages of using compounded products.
Before we go, can you tell us about the regulatory environment that may change depending on where you live when it comes to controlled substances like testosterone or HCG?
Shaun Noorian: Testosterone is actually a Schedule III Controlled Substance in every state with the exception of New York, in which it is a Schedule II Controlled Substance.
HCG is a Schedule III Controlled Substance in nine states. We have a great map on our website located at empowerrxpharmacy.com/where-were-licensed.html that shows the entire United States and each state's rules that that deal with HCG and compounded products.
By clicking on each state, a patient can find out what the rules are for their specific state and whether HCG is considered a controlled substance and if we require patient identification information to fill these medications. Pretty much every rule that a compounding pharmacy needs to know to be compliant with each state's rules and regulations is on this map.
Nelson Vergel
: All right. Well, thanks for those, Shaun. I appreciate your taking the time to answer questions tonight. Once again, if you want to ask Shaun any questions, please post them on
ExcelMale
.com. Make sure you direct them to him.
Shaun Noorian: It's always my pleasure. Thank you, Nelson.
******
Picture of Shaun and I while I was touring his sterile room for
ExcelMale
.com's review of his company, Empower Rx Pharmacy in Houston.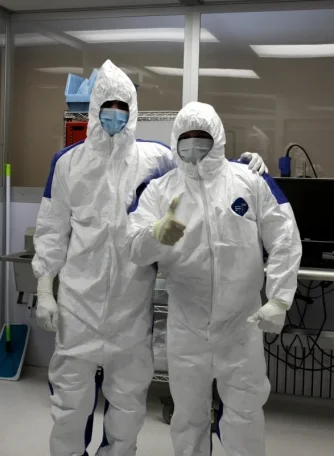 Last edited: