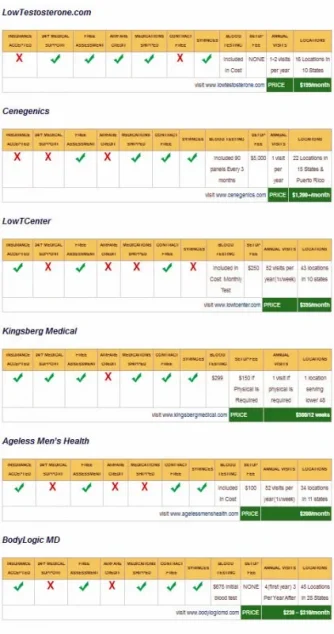 FOR A LARGER IMAGE:
http://www.lowtestosterone.org/find-a-clinic/
This table summarizes the differences between men's health testosterone clinics on the following parameters:
1- Is insurance accepted?
2- Is 24 hr/7 day support provided?
3- Is there a free assessment?
4- Is there a travel credit for first visit?
5- Are the medications shipped to patient for self-administration?
6- Is there a contract to sign?
7- Are syringes provided with product?
8- Are blood tests included in price?
9- Is there a set up fee?
10- How many patient visits are required.
11- How many locations
12- Cost per month
For more resources:
How to Find a Good Doctor that Prescribes Testosterone. HCG and Anastrozole
Last edited: