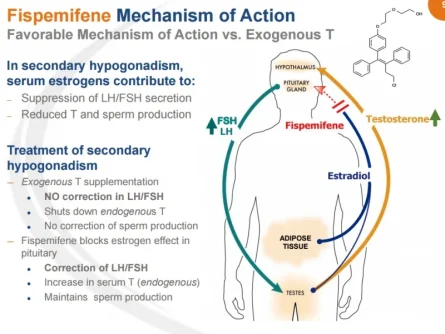 SAN DIEGO, June 1, 2015 (GLOBE NEWSWIRE) -- Apricus Biosciences, Inc. (Nasdaq:APRI), a biopharmaceutical company advancing innovative medicines in urology and rheumatology, today announced that it has begun enrolling patients in a Phase 2b clinical trial to evaluate Apricus' novel product candidate, fispemifene, a selective estrogen receptor modulator ("SERM"), for the treatment of men with symptomatic secondary hypogonadism also known as low testosterone.
The Phase 2 proof-of-concept clinical trial is a randomized, double-blind, placebo-controlled, parallel arm, multi-center study in approximately 160 hypogonadal men aged 18 to 64 who present with sexual dysfunction related to secondary hypogonadism, or low levels of testosterone. The study will evaluate the safety and tolerability of oral fispemifene, and will assess the effects of treatment on the sexual symptoms using Patient Reported Outcome (PRO) endpoints. The study will also assess relevant pharmacodynamic and pharmacokinetic parameters to evaluate the ability of fispemifene to endogenously increase the serum testosterone level. The study will enroll at approximately 15 sites in the United States and the Company expects it to run through the end of the year with topline data expected in the first quarter of 2016.
"I am enthusiastic about the potential of fispemifene, a new SERM, as a treatment option for men with sexual symptoms associated with secondary hypogonadism, and am excited to be an investigator in this important study," said Dr. Jed Kaminetsky, MD, Clinical Assistant Professor at New York University School of Medicine, Medical Director at Manhattan Medical Research, and a Principal Investigator for the Phase 2b study.
"Apricus' development goals for fispemifene are broader than simply demonstrating an increase in serum levels of testosterone in men with secondary hypogonadism," said Barbara Troupin, MD, Chief Medical Officer of Apricus Biosciences. "Our overarching objective is to demonstrate additional clinical benefits in symptomatic hypogonadal men, using fispemifene's novel mechanisms of action, to support approval in the US market. The multi-indication development program is designed to explore additional clinical benefits of fispemifene in other urological conditions where there is currently an unmet need."
Dr. Troupin continued, "Since inappropriate use of testosterone replacement products is of concern to the FDA, we believe our development strategy, which characterizes an appropriate patient population and a treatment approach based on alleviating prevalent symptoms in men with androgen deficiency, positions fispemifene favorably from both a clinical and a regulatory perspective. If successful, the ability to demonstrate meaningful clinical benefits, in a well-tolerated oral formulation, would represent a significant treatment benefit and an attractive alternative to existing treatments."
NOTE FROM NELSON: Anecdotally, SERMS like clomiphene may increase testosterone in men but have not been proven to improve sexual function or desire in older men.