Introduction to PDE5 Inhibitors
In recent years, the use of a class of drugs known as PDE5 inhibitors has significantly changed the way erectile dysfunction (ED) is treated. Major medical organizations like the American Urological Association and the European Urological Association have recognized these drugs as the first-line treatment for ED in suitable patients. But what are PDE5 inhibitors, and why are they so effective?
What Are PDE5 Inhibitors?
PDE5 inhibitors, or phosphodiesterase type 5 inhibitors, are a group of medications specifically designed to treat erectile dysfunction. They work by increasing blood flow to the penis, which helps in achieving and maintaining an erection.
The Efficacy and Preference of Different PDE5 Inhibitors
Several studies have been conducted to compare different PDE5 inhibitors, such as tadalafil and sildenafil. These studies have shown that both drugs are effective in improving erectile function, with many men preferring tadalafil due to its longer duration of action. This longer efficacy means that tadalafil can provide more spontaneity and less timing concern for sexual activity.
Understanding the Pharmacokinetics
Knowing how these drugs work in the body is important for choosing the right one. For example, tadalafil has a longer half-life, meaning its effects last longer. On the other hand, Avanafil may act faster. This information is crucial for patients and doctors to decide which drug to use based on individual needs and preferences.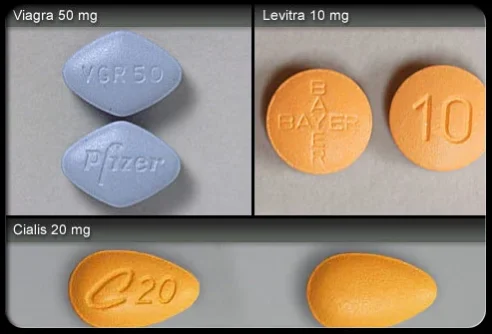 Comparing Efficacy and Side Effects
Tsertsvadze et al. did a full meta-analysis of data from 130 randomized control trials and found that all PDE5 inhibitors made erectile function better. However, there was little difference in the success rates of sexual intercourse and side effects among the drugs. This highlights the efficacy of all PDE5 inhibitors while also showing that side effects are generally low and manageable.
Patient Preference: A Key Factor
In the modern approach to healthcare, patient preference plays a crucial role. A study focusing on patient preference among sildenafil, vardenafil, and tadalafil found that a significant number of men preferred tadalafil, mainly due to the quality of erections and the possibility of intercourse the following day. This finding underscores the importance of considering patient preference when choosing a PDE5 inhibitor.
Network Meta-Analysis for Better Understanding
Chen et al. conducted a network meta-analysis to provide a clearer picture of the efficacy and side effects of various PDE5 inhibitors. This study included a large number of patients and even considered drugs not yet approved by the FDA. The results indicated that while all drugs in this class are effective, sildenafil 50mg showed the highest efficacy but also had the highest rates of adverse events. This suggests that the choice of a PDE5 inhibitor should be based on balancing efficacy and side effects.
Study Details:
A study attempted to look specifically at patient preference when trying to determine the choice of PDE5I. This was a prospective, randomized, open-label, fixed-dose preference study with a cross-over design that attempted to compare efficacy and patient preference between sildenafil, vardenafil, and tadalafil. Sildenafil 100 mg, vardenafil 20 mg, and tadalafil 20 mg were compared. Each drug was taken at least 6 times by each participant, with at least seven days of washout prior to switching medications. According to their International Index of Erectile Function (IIEF) scores, all three drugs demonstrated a significant improvement in erectile function. Tadalafil had statistically significant higher IIEF scores when compared to both sildenafil and vardenafil. Patient responses to direct questioning of preference mirrored these results (tadalafil had the highest preference rates at 52.2%). Rates for sildenafil and vardenafil were 27.7% and 20%, respectively. For those who preferred tadalafil, subjectively better erections and the possibility of intercourse the following day were the deciding factors (36). In an age where patient preference is a key component of care, these findings may prove key when recommending a PDE5I to your patient.Chen et al. tried to use network meta-analysis, a trade-off, to better guide PDE5I use by putting together the large amount of data on PDE5Is, how well they work, and what side effects they might have. This particular study compiled 82 trials with a total of 47,626 patients for efficacy analysis. Seventy-two trials and 20,325 were included for analysis of adverse events. Importantly, this analysis included PDE5Is like udenafil and mirodenafil that the FDA has not yet approved. In terms of efficacy, all drugs in this class were found to be efficacious when compared to placebo. Sildenafil 50mg was found to be the most effective, but also had the highest rates of adverse events. Vardenafil 10 mg (0.35 CI, 0.32–0.38) and avanafil 100 mg (0.29 CI, 0.15–0.44) had similar adverse event rates when compared to sildenafil 50 mg (0.47 CI, 0.34–0.59), but unfortunately their rates of efficacy were substantially lower (37). Overall, the authors suggested that for high efficacy, on-demand sildenafil 50 mg is the treatment of choice. For those patients where side effects are of strong concern, tadalafil 10 mg would be a reasonable choice while still maintaining efficacy.

Conclusions: The Future of PDE5 Inhibitor Use
The development of PDE5 inhibitors has been a game-changer in the treatment of ED, improving the quality of life for countless men worldwide. The key takeaway from these studies is that while all PDE5 inhibitors are effective, the choice of drug should be tailored to individual needs, considering factors like side effects, patient preference, and specific health conditions. As research continues, we can expect more refined treatment algorithms to emerge, helping doctors and patients make the best choices for ED treatment.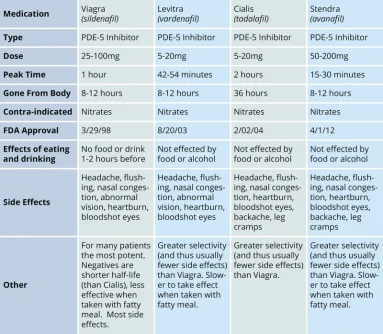 Full paper source:
 The devil is in the details: an analysis of the subtleties between phosphodiesterase inhibitors for erectile dysfunction
More information: